A complete guide for Yacht Rentals in Singapore
If you're considering a memorable yacht journey in Singapore, you're in for an unforgettable experience. Singapore, with its stunning coastal views and vibrant maritime culture, provides an ideal setting for a yacht adventure, whether it is a daytime yacht charter or a sunset cruise. If you are renting a yacht first time, here are some important steps to take before you begin hiring a yacht. This will help you to choose the perfect Yacht rental in Singapore.
Planning Your Yacht Journey
Step 1: Set Your Charter Date
The first crucial step in securing a yacht rental in Singapore is to plan your date. Be sure to check the pricing. Typically the boat rentals pricing varies for weekday, weekends and Public Holidays. So this information will help you make an informed decision that fits your budget.
School holidays in Singapore are a popular time for Yacht Charters. This is because families and friends often take advantage of the school break to go on vacation. As a result, yacht charters tend to book up quickly during school holidays. So it is important to book early if you want to get the yacht you want.
However, if you have no specific plans and just want to enjoy the Yacht Journey. We advise you to check The best time to book a yacht. You will find the best yacht deals in Singapore and enjoy greater savings on Cheap Yacht rentals and Luxury Yacht Rentals.
Step 2: Define Your Event
What's the occasion? Yacht rentals in Singapore are perfect for many occasions like birthday parties, weddings ceremonies, family gatherings, corporate events, bachelor parties, hens party, or even a relaxed BBQ get-together.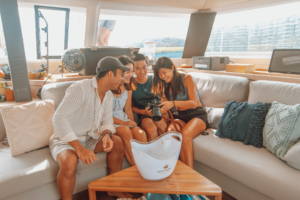 There are different types of Yachts available based on your event. This includes the most luxury yachts like Super Yachts, Luxury catamarans and the most affordable yachts like Cabin cruiser. Define your event, the group size and the budget. You'll definitely find a yacht experience to match your requirements.
Step 3: Know Your Group Size
The number of guests is an important consideration when choosing a yacht in Singapore. Each sailing boat is licensed to carry a maximum number of guests, so it's important to know the maximum capacity of the yacht to make sure you don't exceed the limit.
To find the right yacht size for your group, start by determining how many people will be joining you. Then, add a few extra guests to account for last-minute changes. This will ensure that you have enough space for everyone to be comfortable.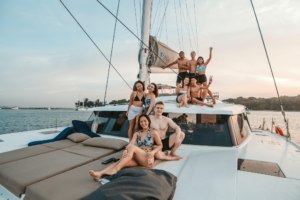 Once you know how many guests you'll have, you can start to look at different yacht sizes. There are a variety of yachts available in Singapore, so you're sure to find one that's perfect for your group.
Ultimately, the best way to choose the right yacht size is to consider your needs and budget. If you're not sure what size yacht, it's always best to consult with a Yacht Charter company. They can suggest you to hire a Yacht suitable based on your budget and number of guests.
Finding the Right Yacht Rental Company
Step 4: Comprehensive Research
Once you have decided on your Yacht charter date, the occasion and the number of guests. It's time to search for the Yacht Charter companies.
When searching for yacht rental companies, don't limit yourself to the top 3 results of the first page search results. Explore beyond the top listings to discover a wider range of Yacht options. Compare prices and offerings from different Yacht agencies.
Private Yacht rental prices in Singapore starts from as low as $600 for a 4hours charter time. Keep in mind that some Yacht rental companies may charge booking fees, so be sure to factor this into your budget. It's always better to check if there is service tax like GST or any other booking charges. It is also a good idea to understand their cancellation and refund policy.
Step 5: Request a Standard Yacht Itinerary
Ask the rental company for a Yacht itinerary. While specific activities may vary, a standard itinerary will give you an idea of what to expect during your yacht journey. Familiarize yourself with the available amenities and options.
Know where your Yacht Club. A place where you board the yacht or begin your journey.
The majority of private yachts located in two popular marinas in Singapore.
One°15 Marina Club located at Sentosa Cove

Marina @ Keppel Bay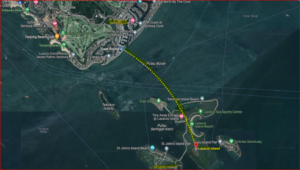 There are other Marinas like Republic of Singapore Yacht Club, Raffles Marina and few others. However, One degree 15 & Marina @ Keppel bay (Keppel Marina) are popular yacht clubs in Singapore. But it's less important which Yacht club, it's about the Yachting experience that you want to enjoy.
Destination and Activities
Step 6: Choose Your Destination
Consider the destination of your Yacht journey. Singapore offers a variety of scenic spots, Yacht trip to southern islands including Lazarus Island, St. John's Island. Discuss your preferences with the rental company to ensure your chosen destination aligns with your vision for the journey.
Step 7: Catering Options
Decide on your catering preferences. Some Yachts offer BBQ menu onboard the yacht with additional pricing, some don't offer. But Its completely your choice whether you want to bring your own food or order some BBQ from Yacht menu.
If you don't find the menu options you are looking for, you can order with your preferred caterer and arrange it to be delivered to the yacht location. Just let your Yacht Charter company know about your self-catering. They will give the required information to pass to your catering company.
However, if you bring your uncooked BBQ food, yacht crew can help you to grill or cook your BBQ food. There might BBQ service charges, check with Yacht operator. The BBQ service should include the rental of BBQ pit and grilling / cleaning service as well. Mostly they use electric BBQ pit, but if they use Charcoal BBQ pit, it should also include the supply of charcoal.
Step 8: Water Activities and Cruise Options
Explore the available water activities offered during your yacht journey. Whether it's anchoring for water sports or a leisurely cruise with a view of the city skyline, make sure your itinerary includes the activities that matter most to you and your guests.
Most yacht charters in Singapore offer water toys such as kayaks, stand-up paddleboards (SUPs), and floating mats. Some Luxury Yachts offer more options like Jet ski, Outdoor Jaccuzzi with additional cost. These are a great way to enjoy the water and have some fun on your yacht charter.
It is important to check with the yacht charter company during the inquiry for yacht, what included in the price. This will help you avoid any surprises when you arrive at the marina.
Yacht Reservation
Step 9: Confirming your booking with Yacht Rental company
Once You found the suitable yacht that met all your requirements, check the yacht availability for your date and time. Some yachts are flexible with the timings and some yachts follow the standard time slots. If everything is as expected, it's time to book your Yacht with Yacht charter company without any delay.
Ask them to soft book the boat and make the payment upon receiving the invoice from them. If you plan to book the yacht weeks ahead of time, you can rent a yacht by paying for a minimum number of people and the balance for any additional guests closer to the yacht charter date. While most Yacht rental companies allow this, double-check with them when making your Yacht booking.
This is the best option to secure the yacht while you're still deciding on the final number of guests. This way ensures that your yacht booking confirmed because you have already paid the minimum. So that you don't miss out to hire your favourite yacht.
In general, all the Private Yachts in Singapore allow for booking minimum of 4hours. If you want to rent a yacht for more than 4hrs, just inform the Yacht charter company in advance. Know the additional charges and pay to them accordingly. You can pay for additional hours later once you secure the yacht with minimum payment.
After you pay, you should receive your yacht booking confirmation, which includes the yacht name, date and time of charter, yacht location, meeting point, and crew contact number.
Safety and Considerations
Step 10: Stay Safe & Stay Within Limits
Stay safe while your are swimming, make sure you don't go to the extent. If you have problem with motions sickness, check our guide tips for seasickness.
Remember to enjoy responsibly. If you plan on consuming alcohol, do so in moderation. Keep in mind that the safety of all guests is a top priority during your yacht journey.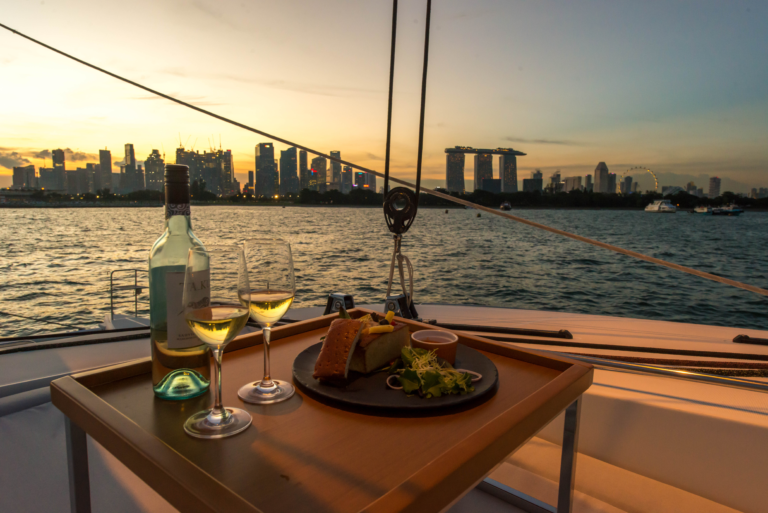 Step 11: Be Prepared for Weather Changes
While Singapore is known for its tropical climate, it's essential to be prepared for unexpected rain. Check the weather forecast in advance and have a contingency plan in case of inclement weather.
However, please note that, there is the standard practice in Singapore for Yacht charter during a rainy day. You can't cancel your Yacht trip due to the rain or bad weather. There will be no refunds for cancellation.
The only exception is when the captain decides the weather is not suitable for sailing, they will cancel the charter and allow you to reschedule your charter for another date. But to be honest that rarely happens.
Additional Considerations for a Seamless Yacht Experience
Ensuring Comfort and Convenience
Smoking: Before embarking on your journey, check if smoking is allowed on board. Some yachts allow them at designated areas. Some don't allow onboard.
Pet Policies: If you want to bring a pet onboard the yacht, check with the Yacht rentals if pets allowed. If the yacht is pet-friendly, inquire about any additional charges associated with bringing a pet.
Shower Facilities and Cabin Access: Ask about the availability of shower facilities and whether all or some of the cabins are accessible during the charter. Generally, guests should bring their own towels if they have to shower after the water activities.
Red Wine Consideration: Note that Red wine is not allowed on most yachts due to its potential to stain the deck. Confirm with the rental company if this policy applies to your chosen yacht.
Inclusions in the Price: Check with the rental company to understand what is included in the price. This may encompass fuel, the services of a skipper, and BBQ services etc.
Insurance: Generally, Yacht rentals in Singapore will have the public liability insurance. But it is always a good idea to have your own personal insurance.
Galley Access: Luxury Yachts or Super Yachts often come with a dedicated Kitchen space in the deck. If you plan to prepare your own meals, ensure the yacht has the necessary cutlery and that your are allowed to use them including access to Galley.

By following these comprehensive guide for Yacht rentals in Singapore, you'll be well-prepared for an exceptional yacht journey in Singapore. Take the time to plan ahead, choose the right yacht rental company, and select the activities that will make your experience truly unforgettable. Happy Yachting.